If electricity could be a problem, therefore we developed for you a system that can work without electricity and can provide perfect Safe Drinking Water.
We have 5 different types of SAFE DRINKING WATER SYSTEMS.
1. Personal Safe Drinking Water System by using our Life Saving bottle.
2. Village Pump 500, community supply up to 500 water per hour, without electricity need.
3. Water treatment System UF type, capacity up to 6.000ltr/hr, needs electric generator which we can provide.
4. Water treatment System Container type, for treatment of Brackish water of up to 2.500mg/ltr.
5. Water treatment Fixed System, capacity of more than 10 m3/hr.
1) Certified/ approved By United Nations world Health Organization.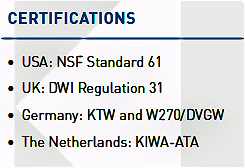 2) Eliminates common waterborne diseases such as Cholera, Glardia, Dysentery and Cryptosporidiosis through Microbiological water filtration (Micro-filtration technology that instantly filters unsafe, unclean water into safe and clean drinking water)


3) Contains no chemical treatment
It contains NO chemical treatment.
4) Does not require Batteries or electrical power to operate / function.
We have several products that don't require electricity.
5) Durable, Easy to use and ideal for school-going children and in difficult and hard to reach rural settlings/ communities, Yes, very durable, we provide 2 year product warranty.
6) Portable lightweight water filters, offering easy access to clean and safe drinking water for individual, family and community(such as school)

We have several products for this. Please see the information below.
1. Personal Safe Drinking Water System via bottle.
A robust and portable water filter capable of delivering up to 6,000 litres of clean water for individual use.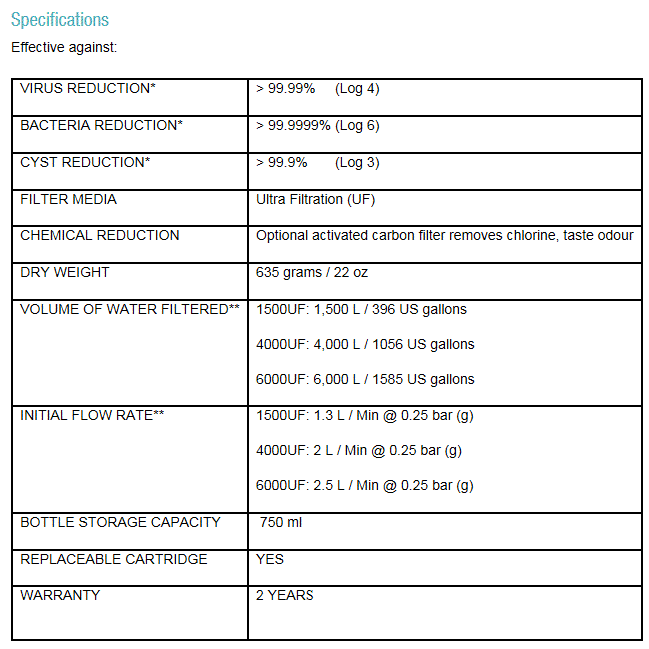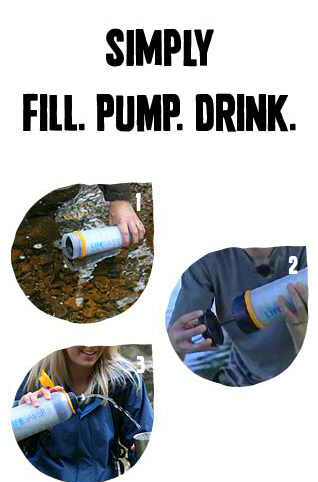 2. Village Pump 500, community supply up to 500 water per hour, without electricity need.
Every village wants safe drinking water so we developed a Village Pump with capacity of 500 Liters of fully purified drinking water per hour. Each Village pump employs multi-stage filtering that reduces diseases by removing waterborne pathogens that can cause diarrhoea, dysentery, cholera and hepatitis. The units can operate from all forms of surface water, including ponds, lakes and streams.
The Village pump 500 is ideal as a compact water treatment system wherever fresh surface water is available or with water storage systems (e.g. rainwater harvesting). The Village pump is fully mechanical and hand-powered, constructed on the basis of proven technology, without using any vulnerable electronics or chemicals. As the mechanical components are assembled in a modular manner, the Village pump 500 is easy to install (plug & play) and easy to maintain and user-friendly.
The water treated by the Village Pump will meet WHO standards for drinking water for:
- microbiological contamination, ie E-Coli, F-Coli, Salmonella, Hepatitus-, Polio virus and other viruses;
- protozoa such as Giardia and Cryptosporidium;
- worm eggs (Ascaris/Nematodes);
- turbidity;