---
CHILLER
| | |
| --- | --- |
| TYPE: | Chiller |
| DESCRIPTION: | 3 x Water Chiller - Cooling Plants |
| PRICE: | Upon Request |
| PACKING: | As is, Where is |
water chiller - cooling plants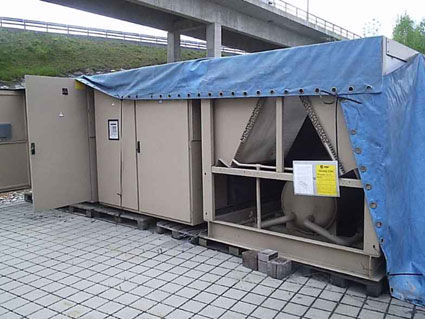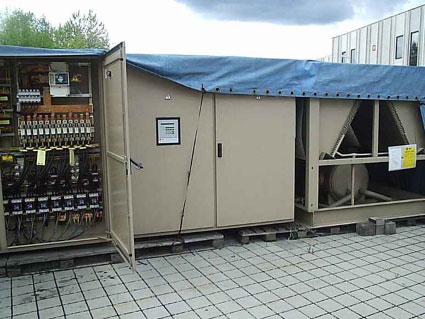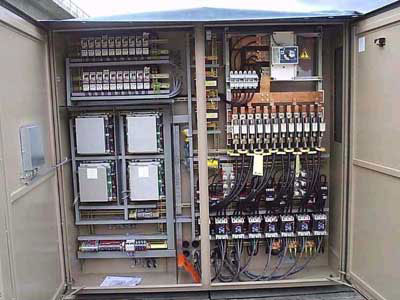 3 WATER Chiller / Cooling plants each 1280 KW....
New Unused....
| | |
| --- | --- |
| Product: | Cooling plant |
| Brand: | Trane |
| Capacity: | 1280kW |
| Effect: | 1280kW |
| Quantity: | 3 |
| Other info: | 3 pcs new cooling units with rotation compressors and complete controls. manufacturer/supplier: TRANE - kind of the plant: Heli coil rotor compressor Fluidmachine with 2 separated. Coolingstreams with ever 2 compressors for each Coolingstreams - structure of plant: Compact unit completely electrical mounted and assembled , the plant became before the dispatch (2002) with Cooliongfluid and all oils by the factory provided. - construction: Basic frames from welded steel sections, Heatingchanger, from galvanized steel with lacquer finish provide. ready for operation one electrical switchgear cabinet with input wattage switch 1250 : liquefaction in W form therefore assembly with small free area around the Ger- regulation: Microprozessorcontrolling optimizing rule and control module with plain language announcement as activesurface - year of construction: 2002 -coolingliquid: HFC 404 A - coolingpower: 1050 KW for each plant - note: The plants were for a project in Ankara, certainly and due to Projectdelayed and that . project end of 2003 in playing field were stored. |
ex warehouse Austria
Specification and photos are not contractual and are subject to verification upon inspection
TAKE NOTICE!
PLEASE BE ADVISED THAT INFORMATION INCLUDED IS CONFIDENTIAL IN NATURE AND IS BASED ON PRE-EXISTING BUSINESS RELATIONSHIP WITH THE LEGAL OWNER OF PROPERTY DESCRIBED HEREIN (IF APPLICABLE). AS SUCH, UPON RECEIPT OF SAID INFORMATION THE RECEIVER ACKNOWLEDGES THAT ANY UNAUTHORIZED CONTACT WITH SAID LEGAL SELLER WILL BE CHARACTERIZED AS A BREACH OF CONFIDENTIALITY AND SAID AGREEMENT MAY BE ENFORCED UNDER EXISTING LAW OR IN EQUITY.
This paper was prepared by General Equipment Inc.
The paper represents an offer of a partner of General Equipment Inc.
All rights are reserved by and for General Equipment Inc.
All content and ideas of this paper are the property of General Equipment Inc.