---
AERIAL DELIVERY CONTAINER
| | |
| --- | --- |
| TYPE: | Container |
| DESCRIPTION: | Aerial Delivery Container |
| PRICE: | Upon Request |
| PACKING: | Ex-works |
A-22 AERIAL DELIVERY CONTAINER FOR C-130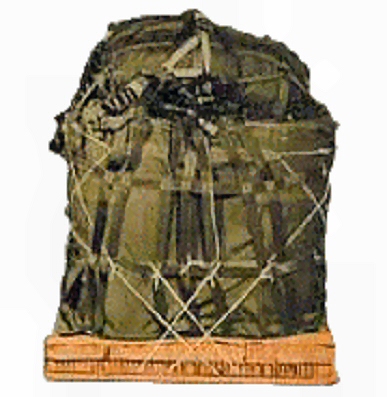 A-22 Aerial Delivery Containers for C-130 Aircraft
The A-22 container is an adjustable nylon cloth and webbing container used to deliver food, medicine, ammunition, supply type loads and disassembled, or ready-to-use equipment in a convenient 1 ton bundle.
A-22 containers are also used to drop folded Zodiac type boats, motorcycles, snowmobiles and arctic sleds.
The A-22 container consists of a sling assembly, cargo cover and four suspension webs connecting the container to the parachute. The entire bundle is attached to a plywood skidboard and uses paper honeycomb as energy dissipating material.
A-22 COMPONENTS


· Aerial Delivery Cargo Assembly
· G-12/G-14 Cargo Parachute or
22/26 ft. Ring-Slot Parachute
· 68 inch (26.7 cm) Pilot Parachute,
Cover and Four Suspension
Specification and photos are not contractual and are subject to verification upon inspection
TAKE NOTICE!
PLEASE BE ADVISED THAT INFORMATION INCLUDED IS CONFIDENTIAL IN NATURE AND IS BASED ON PRE-EXISTING BUSINESS RELATIONSHIP WITH THE LEGAL OWNER OF PROPERTY DESCRIBED HEREIN (IF APPLICABLE). AS SUCH, UPON RECEIPT OF SAID INFORMATION THE RECEIVER ACKNOWLEDGES THAT ANY UNAUTHORIZED CONTACT WITH SAID LEGAL SELLER WILL BE CHARACTERIZED AS A BREACH OF CONFIDENTIALITY AND SAID AGREEMENT MAY BE ENFORCED UNDER EXISTING LAW OR IN EQUITY.
This paper was prepared by General Equipment Inc.
The paper represents an offer of a partner of General Equipment Inc.
All rights are reserved by and for General Equipment Inc.
All content and ideas of this paper are the property of General Equipment Inc.
---
Defense items are subject to final destination approval and granting of an
export license issued by exporting country's authorities